There are many ways of expressing ideas and passions. Art has always been part of my life. my dad taught me to draw. I studied art in school and have been painting and drawing throughout my life. More recently in the past five years, I am rekindling this passion and meditative and reflective process. Here are some more recent expressions. The theme of reflection of light and life on water has intrigued me. The representation of buildings and subjects above water can be liberated by a more abstract interpretation when water, form and light are released. I have had fun with this challenging development and it has not been easy to capture these experiences. You can look at my latest painting by clicking "Albert's Art" on by blog menu.  You can read some written reflections "The Art of Coming Out" shared in weekly chapter by clicking below. Enjoy!
https://albertogle.com/art/the-art-of-coming-out/
A series on Reflections 2020
Rain in Fort Lauderdale 2020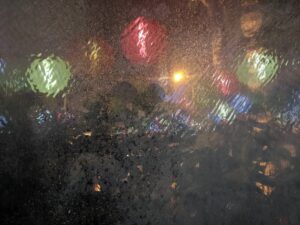 Light and color on water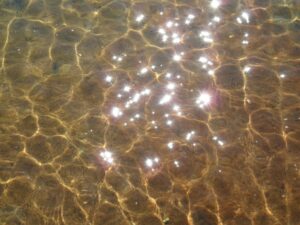 Movement and light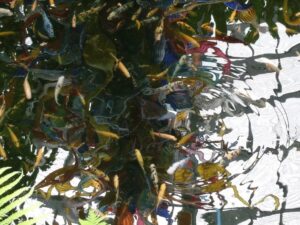 Coy and reflected windows -such movement!
Art
I have been an activist all of my ministry but most people are not aware of the more private and interior side of me that is most apparent in my art. There are a couple of subjects that have been created during the Covid 19 pandemic and they are indicative of the difficult journey we are all navigating. The New York skyline (from the Jackie O reservoir) is huge, ambitious and from left to right represents three very different painting techniques that emerged while New York was suffering terribly from this pandemic. Many of our friends were impacted and the painting took on an ominous quality in the reflective turbulent waters and the decreasing "sparkle" of the city that never sleeps. The is a dullness about the skyline that reflected the mood in the city during most of 2020 as people fled or were locked up. It was a kind of prayer for the city through paint. Here are some different stages of the work. It ends on the RHS brighter and hopeful!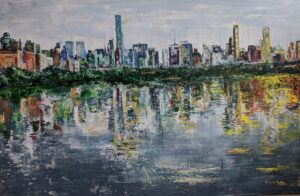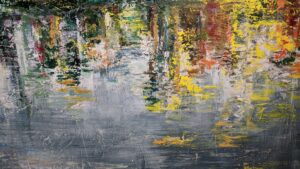 Berlin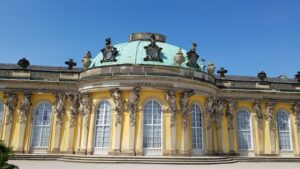 I visited Sans Souci (on the outskirts of Berlin) several times and found the park-like setting of the palaces and gardens a wonderful way to spend a sunny afternoon. It is best seen from a bike and you can rent them just outside the local train station. One subject is this Asian pavilion sitting in a meadow and I first began playing with light on water in this subject. It is very soothing and takes me to a deep summer afternoon in a magical place where nature and architecture play off one another.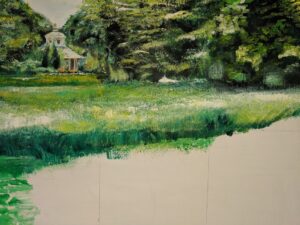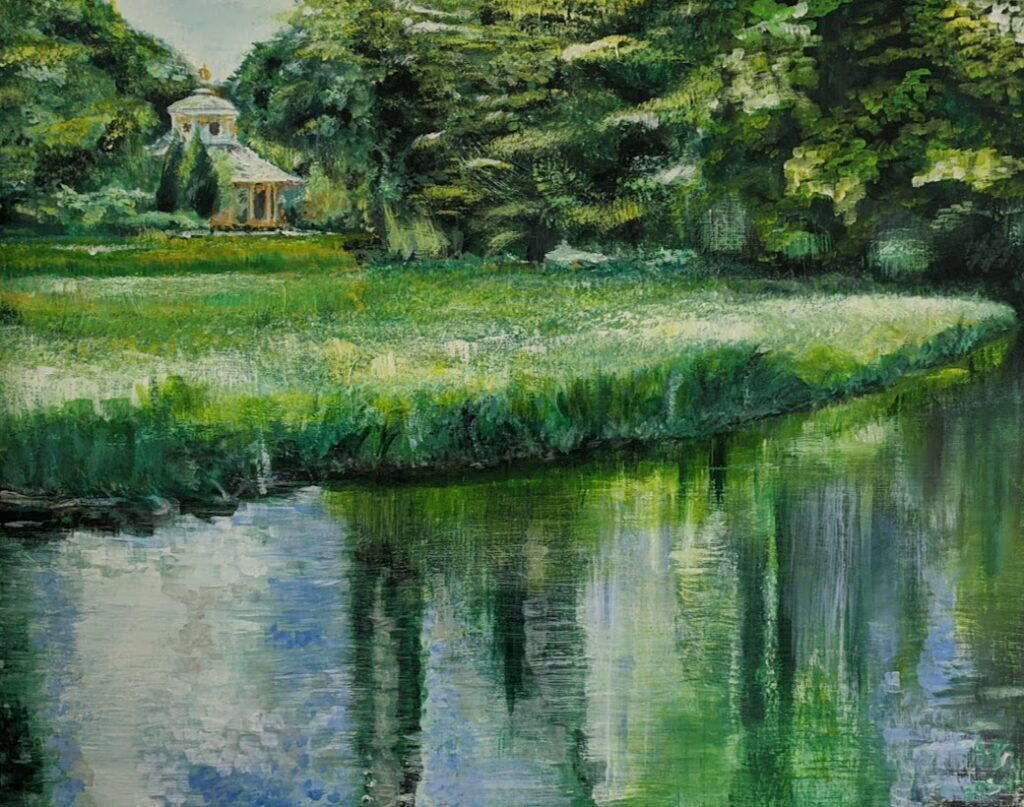 Strangford Lough, Northern Ireland
This is a magical place where the current is one of the most dangerous in the world. Patrick landed here in 432 AD and the area is full of pre-Christian holy wells and interesting folklore. A castle nearby was used in "Game of Thrones". The ferry from the castle across the lough to Portaferry is a five minute crossing and you get to see this beautiful house with its customs and excise boathouse nearby (to keep and eye on the smugglers). I wanted to paint something in the style of Corot…simple, serene and a beautiful place to live and look out on the water.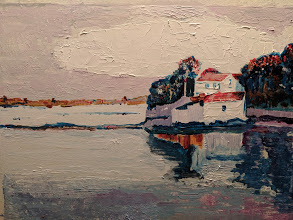 Amsterdam
The Dutch learned how to tame the sea and harness energy from the wind so they are the smartest humans when it comes to coping with climate change and still having a life! These canals and houses represent months and years of driving wooden piles into the mud and creating a magical village that floats above the sea. I love Amsterdam and its human scale of city-scape. The reflection of party-goers and humanity on the controlled chaos of the canals (captured ocean) is a wonderful contradiction. People have loved, laughed and fallen in love here.