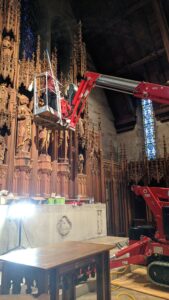 Today is my last day in the office at St. Paul's, Chestnut Hill. We moved offices last week from the rectory back to Dixon House, so there is a sense of planned chaos in every part of the campus!! The church remains a construction zone, the parish hall is under major repairs, the street is closed as the final work on connecting with the city's sewer. The organ builders were working hard to begin more installation of the newly renovated and rebuilt organ. The internet was down for a couple of days and we have to send the Sunday bulletin out for printing because all the ethernet cables in the old offices have dissappeared.  Desks and filing cabinets are awaiting attention and final placement. This is the most chaotic the place has been in 26 months!
Yet in the midst of the chaos there is all that love and gratitude that seems to enfold all this negative and the annoying disruption. The services on Sunday were really lovely and I want to thank Ruth Desiderio for her careful attention to detail in celebrating our time together. As I said in my last sermon, this vestry is the hardest working vestry I have ever worked with! Stewart Graham's reading of the Philadelphia City Council's citation was a lovely surprize and many of you know how much I value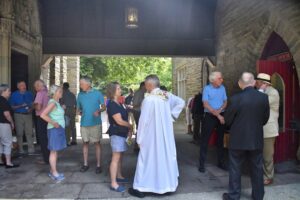 the decades of service to the city by many dedicated parishioners, so I am honored to be among you and will keep the city and its important ministries in my thoughts, prayers and service in the years ahead.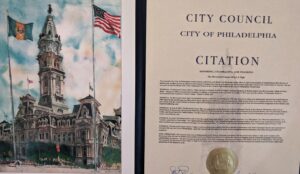 It was a great idea to have little gathering following each service and I got to say farewell to many of you and the gifts, cards and e mails have touched me deeply. Thank you for the purse that is being collected and as someone about to retire, that cash will come in very useful! I shared the symbol of St. Paul's that is now part of my white stole and as I wear it on my heart, I am so appreciative of the friendships and mutual support that you have given me and Mile these past 2 years.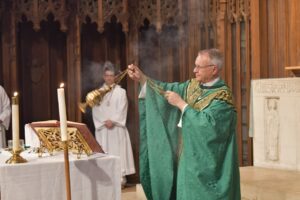 Fr. Eric is on his way and will be arriving in Chestnut Hill next week as Rev. Dan Kline returns from vacation this weekend and will be in church on Sunday. Be patient with the staff in the coming weeks -they are working hard and are the salt of the earth, but their workspace is non-existent and they will do all they can to make sure Sundays are flawless. Many of you are out of town for the summer holidays, so if there is a good time to be in chaos, I guess it is now! Pastoral care and emergercies continue to be covered. I visited Wilson Brown yesterday who had major and sucessful surgery last week and he is at home, doing very well and grateful for your thoughts and prayers. The work of the church goes on and by the beginning of September most of these campus projects will be completed and an estimate to have the organ project completed by Christmas.
I spoke to my family in Europe this week and they are looking forward to seeing us, so I wish everyone at St. Paul's a summer of renewal, refreshment and preparation for the months ahead. Keep us in your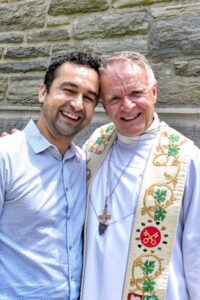 thoughts and prayers as we go through a time of readjustment, re-focussing and renewal. It has been an extraordinary journey together and I have every confidence that St. Paul's will grow from strength to strength and continue its loving shadowy cross over this city. God continues to guide and bless us, even through the chaos and disruption. Jesus is ahead of us, calling us to simply show up and follow him. If you missed last Sunday's sermon -after 44 years of ministry, these are guiding principles that may be the only things that make sense.
with gratitude
Rev. Canon Albert J. Ogle
Interim Rector (retired)