This letter went out to members of my congregation at St. Paul's Chestnut Hill on May 20th 2021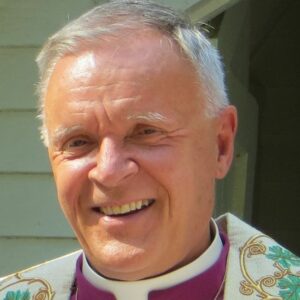 Dear parishioners:
June 29th (the feast of St. Peter and Paul) marks my 44th anniversary of ordination to the priesthood in the Church of Ireland's Lisburn Cathedral. It will also mark the final month of my working in active ordained ministry before retiring at the end of July. My last Sunday as St. Paul's Interim Rector will be on Sunday 25th July when I will hand over responsibilities to Dan Kline our Associate Rector, in preparation for a new rector coming this summer.
It has been an honor, privilege, and a blessing to get to know the good people of St. Paul's. When Mile was appointed to work at Jefferson University Hospital, I had no idea what would happen when we found a new home minutes away from the church. You lovingly took us in! I am grateful to Mile for his support and encouragement during these surprising and challenging years. Your call gave me an opportunity to feel useful and needed as you worked through an important period of discernment, reflection, and re-tooling for new ministry. Together, with my staff and Vestry colleagues, we have all helped to steer us through the unchartered waters of a rector search during a global pandemic. Like a great wooden hull turned heavenward, St. Paul's is ready for its next bold adventure with a new captain and hopefully, a well-equipped vessel and crew.
Thank you for the invitation to share ministry, take inventory and move us all boldly forward. With the sheer joy of getting to know each other, we learned how to communicate more directly with each other, honing our organizational systems and management as well as expanding pastoral care, outreach, and our Christian Education opportunities. With worship and music at our heart, it has been an inspiration to see the music program encounter our current inhibitions and still thrive (especially with the $2m organ renovation gift). Though delayed a year, we are now seeing the capital improvements to the campus and buildings that dominated Rev. Cliff Cutler's final chapter with you, before his retirement from active ministry in 2019. Everything is falling into place.
Systemic change
Rev. Dan Kline has been an invaluable team member and I am grateful to him for his commitment to a shared vision that has changed the way we think of children, youth, and family ministries, as well as innovative forms of worship and our clergy conversations series. Dan has developed an organizational structure for our family ministry that advocates and communicates at every level of our common life, especially now at the Vestry level. My hope is that we can take a similar organizational advance with some form of Music Committee that can share in the collective, wisdom, experience, and responsibility of the Vestry. We are still in discussion about how this can work. If this makes sense and has the support of the Music Guild and Vestry, this organizational change will strengthen the place of the music program at the highest level of decision making and concludes our governance restructuring before the new rector arrives. It simply did not make sense to me why two vital and much beloved programs had no official voice or representation on the Vestry's monthly agenda. The Vestry has worked diligently to ensure the new rector will have the best support and most efficient ways of communicating and listening to these and other ministries who have undergone their own renewal and repositioning. Outreach has thrived and involved more people than in previous years and shared more grants than ever. Christian education has attracted more congregants than before and is taking advantage of the upgrades to our social media and communication resources. I know these improvements will strengthen collaboration and prepare St. Paul's for the challenging days ahead. Your constant support and encouragement have been appreciated by the Vestry and staff. This has created a wonderful opportunity for the next rector and St. Paul's is so blest with great lay leadership willing to support their priest without reservation. As Jesus reminds us, we will always have the naysayers and saboteurs with us. Mismanaged conflict within this congregation has been historically costly, but hopefully our willingness to heal and learn from the past will carry the day.
Clarity and communication
Clarity of roles, responsibilities and transparency of finances and strategies has helped to build trust and re-define our common purpose as we move into a new future. This shared responsibility and authority is a unique Episcopalian value that will help the next rector and their team to build upon the work of the past 2 years. Transparency, accountability and working for the common good helped us to heal and recover from a $220k deficit in 2019 that caused a great deal of anxiety for all of us. I am happy to note we now have a second year with a balanced budget, more reserves for property enhancement and over $600k in pledged income for the first time in St Paul's history. The legacy society "the Company of Angels" is also growing and will provide important support for our programs and property maintenance. I have found these last two years of active ministry most rewarding and extremely challenging, but the collaboration between congregation, committees, vestry, and diocese has kept us all safe from Covid 19 infections and its pervasive social paralysis and isolation. We never stopped worshipping, serving, and supporting one another. We responded with imaginative online worship, memorable outdoor liturgies, and organized creative education programs for confirmands, enquirers, and our Clergy Conversations on Sunday mornings. The hard work of the profile and search committees will soon be coming to fruition and after long and careful discernment with the Vestry and diocese. It is a good time to announce my retirement, allow time to regroup here at St. Paul's and begin planning for a different road in my personal and professional life.
Next steps?
What will retirement look like I wonder? I have been impressed by the active lives that many of our retired members have created and so thank you for this mentorship. Firstly, Mile and I will remain in the neighborhood we have come to love. I have many postponed personal projects, from writing and research, to painting more and visiting friends and family as some of the travel restrictions are lifted later this year. I know many of you long for connection to those you love and have been inhibited from seeing them, so with more and more people vaccinated and more opportunities to travel than last year, I hope you will get to see your loved ones also in the summer months. All our existing staff will remain in place, will have some vacation time between now and when the new rector arrives and get ready for the fall church year. The new rector will need time to get to know you all and I am confident the current staff team will be able to maintain the high standards of worship, education, and pastoral care that we have come to expect from St Paul's over the summer months. I plan to re-launch my personal blog and share some memories of the kaleidoscope of ministries that have shaped my life, not only with St. Paul's but with other parishes and non-profit organizations over the past 40 years. So please feel free to connect with my blog and stay tuned for the next adventures! Thanks so much to Bishop Daniel and Canon Arlette, to Ruth and the Vestry for their support, confidence, and collegiality – all of which remain a lasting memory.
In gratitude,
Albert
Albert J. Ogle
Interim Rector